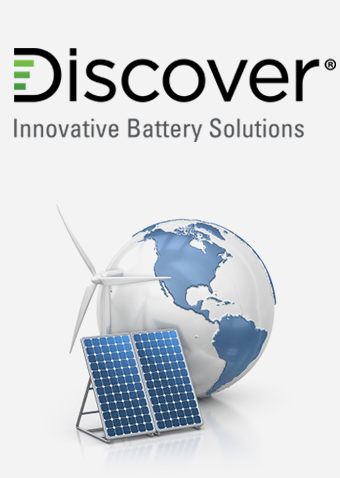 Discover.
www.discoverbattery.com
Dry Cell Traction Battery Technology - Innovative Power Solutions
Discover. is a powerful force in the design, manufacture and distribution of batteries and energy storage solutions for a wide range of applications worldwide. Combining industry experience, innovative product development and knowledge-based services, Discover has set the standard for dependable and maintenance-free, Advanced Dry Cell power blocks.
As the market leader in battery solutions, Discover® Standard AGM, Dry Cell Traction, EV700 Series and Deep Cycle AGM batteries provide proven and tested technological and business advantages over other batteries and manufacturers. Our products are maintenance-free, environmentally sustainable and provide exceptional performance and reliability with consistent power delivery.
We meet the market demand for more power within lower economic and environmental footprints.
We are committed to developing industry leading energy products and being the "go-to" company for green solutions in the Traction Deep Cycle Battery industry. Discover has exact Dry Cell Replacements for traditional flooded lead-acid battery technology.
Our batteries meet international engineering and safety standards and are recognized as one of the industry's leaders in innovative storage solutions. Discover products are designed in accordance with and published in compliance with applicable BCI, IEC and BS EN standards including:
IEC60896-21/22

BS EN 60254-1:2005

AS/NZS 4029.2.2000
Discover and its facilities and products are certified to multiple standards including:
ISO, UL, QS and TUV standards

ETTS Germany

Euro Bat classification for Environmental Stewardship Standards
Discover is a global brand, supported by Factory Warehouses worldwide and a network of Stored Energy Solutions professionals. Visit www.discoverbattery.com to download product data sheets, brochures or to find a distributor near you.
Building excellence in every detail:
Efficient

Shorter charging time compared to standard flooded technology.

High charge retention rate of 97% to 99% per month.

No off-gassing with 99.9% efficient gas recombination.

Traction plate construction protects against premature deep discharge damage.
Dependable

Construction Features

Multiple voltage options available within the same footprint

High impact reinforced copolymer and polypropylene cases with flat top designs

Thermally welded case-to-cover bonds

Traction heavy Duty grid design (PbCaSn) gives consistent active material adhesion and corrosion resistance.

Tank formed plates ensure that all cells have equally matched capacity

Double insulating micro porous glass fiber separators for consistent performance and conductivity

Tightly packed and compressed plates to prevent plate separation and guard against vibration damage

Multiple terminal and configuration options

Carrying handles with most models

High performance comes standard.
Superior performance, engineered to last.
Smart Savings

Designed for longer run times

Designed for high-rate, long-duration discharges

Designed for long life

Shorter charging time and good charge retention

Opportunity charging recommended

Save costs on labor

Save replacement costs on poorly maintained batteries

Protects your equipment from corrosion damage
Responsible Solution

Non-gassing and non-spillable

Maintenance-free

Approved for environmentally sensitive areas

Safeguards against spill related injuries and damage

Eliminates corrosion due to off-gassing

Does not require ventilated charging room

Replacement sizes for all standard hazardous batteries
Durable

99.99% pure heavy-duty lead calcium design for extended grid life

Designed for tough applications and repeated deep discharging

High impact reinforced cases that are shock and vibration resistant

Durable copper and stainless steel terminals for high conductivity

Higher active material to acid ratios provides longer battery life than standard Deep Cycle technology
Easy to use

Increased performance within standard footprints

Maintenance-free with low self-discharge rates

Easily shipped as Non-Hazardous goods without restriction

Operational in a wide range of environmental conditions

Compatible with sensitive electronic equipment

Advanced battery designs that exceed Original Equipment Manufacturer requirements
Environmental Sustainability

Recyclable and made with recycled products

Exempt from HAZMAT shipping requirements

Compliant with LEED (USGBC)

Compliant with OSHA Occupational Health and Safety Regulations

Delivers maximum maintenance-free life without additional service resources

Comprehensive design to conserve resources, improve safety and reduce waste

Advanced battery designs that exceed Original Equipment Manufacturer requirements